Daily education, whole food, plant-based meals and your very own personal coach.
Clinically proven to reduce inflammation and restore health & well-being.
Daily education, whole food, plant-based meals and your very own personal coach.
Clinically proven to reduce inflammation and restore health & well-being.
Meet your coach for a personalized onboarding call and receive unlimited, 24/7 SMS support because habits come calling late at night and questions don't wait for 9-5.
Nutritionally-balanced meals designed to be filling, balanced and above all delicious in our Plantable kitchen. Opt-in for chef prepared meals delivery or your personalized meal plan with grocery lists and recipes.
Education & progress tracking

Through the Plantable app, you'll receive daily educational content, relevant to where you are on your journey, accompanying you every step of the way.
Reverse chronic conditions
---
---
---
---
---
---
---
---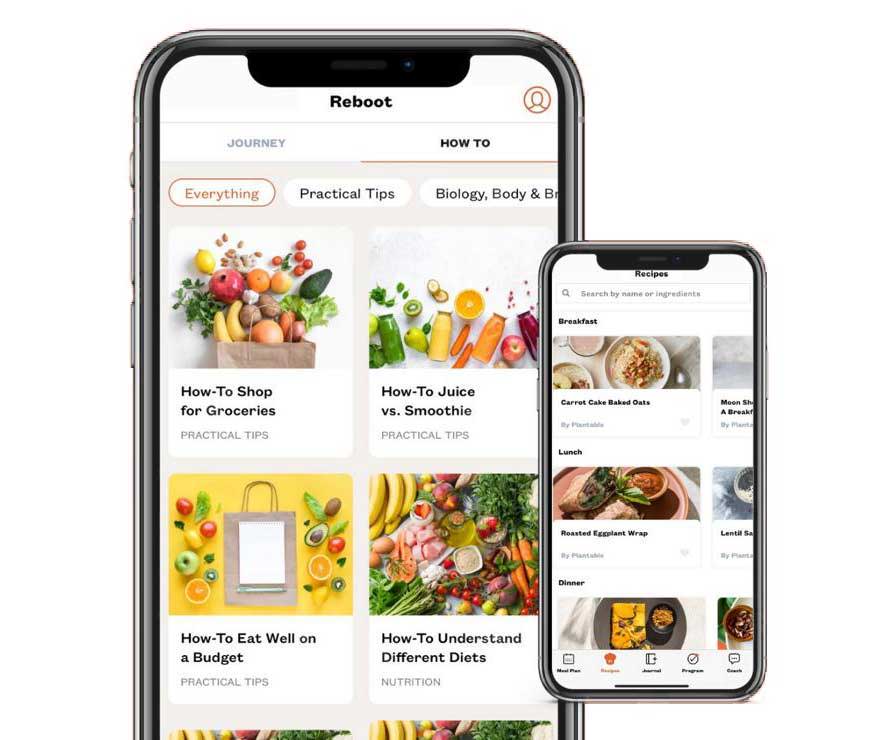 Choose your first shipment date

Enter your information and checkout

Customize your plan and choose your meals

Download the app and speak 1-on-1 with

your coach

Begin your health transformation
Choose your favorite meals from our seasonal, rotating menu
Transform your life. For good.
Reviews from the Plantable community.
When I get on the scale each morning, I laugh in amazement. How could I be eating such delicious food, never be hungry, and lose 16 pounds in 16 weeks? It is too easy to believe. Plantable is more than just the food -- the education and individual coaching add tremendous value to the program. Thank you, dear Coach, for revolutionizing my life!!
We really enjoyed the first week of Plantable: there was a lot of variety, the food was delicious and it was so easy to heat it up and eat it! Healthy, satiating, yummy. What more can we ask for?
I have lost 4.3 pounds total in the first 2 weeks! That is pretty exciting. I did pretty much everything you can think of the past three months and had not been able to lose even half a pound.
Loving all the food! I am surprised and pleased with how good it all tastes! I feel great!! Have a lot more energy and very full/satisfied from the meals!
It takes great commitment and strong determination for anyone who wants to be healthy and live longer to enjoy life. Plantable meals does an excellent job for me personally in addition to daily exercises. I am so grateful for my daughter to introduce me into this Plantable diet stating that my health is priceless !!!
Love that I am getting a MUCH wider variety of veggies, grains and greens than I ever ate on my own. My old diet was healthy but limited. No doubt this is one of many reasons I feel so satisfied after each meal, and the food is yummy!
Thank you for being a wonderful coach and getting me through the rough spots!!! I am loving each of my meals! So much variety. I am excited at each meal not bored! I am working hard on recognizing patterns and changing my thinking.
Then best food I ever tasted , easy to prepare, and most important, I have experienced significant changes to my health !! I have MS this diet is curing me. Many thanks to my Dad's partner Charles who introduced me to this wonderful life saving meal plan. I feel stronger, sleep better, and most importantly have less symptoms of the awful neurological and physical challenges and side effects of MS and its drugs I have to take to manage it
Love the Plant based living. The food is awesome and so easy to prepare. Thank you!!
Ahhhhhmazing. I love the Food and how easy it is to eat better. You guys are amazing. I am planning on keeping this as a permanent food option. I have been feeding everyone down the hall in my office and telling everyone I know about how awesome the program is. I work full time and I am in my second year of grad school and I just wanted to do something better for myself. It does not feel like a compromise. You guys seriously solved a big issue for me in the most delicious way!
I am on the Plantable plan for the foreseeable future. As a busy working mom with diabetes, Plantable has been a lifesaver. I feel great, and after 47 years I have officially kicked the sugar habit and artificial sweeteners for the first time ever!
Empowerment. I was at the most famous dessert place, Ferra, and I had a cappuccino only - the first time in the 42 years I have been going there. My A1C is down to 5.8. Congratulations to us for beating diabetes together. Due to your support with Plantable I will continue to lose 24 more pounds.
I can not tell you how much the awareness about sugar and learning how to eat a healthy whole grain vegetarian diet has affected how Rubia and I eat. Thanks to you and your excellent program. I am a fan.
Plantable has been a life saver and life changer for me! I started this way of living about 4 months ago and absolutely love it! I have lost 20lbs and feel amazing. Being someone who worked out every day, it was frustrating not to see many changes - I did not realize my eating habits were not ideal. Then I started eating Plantable and it has made a world of a difference!